Feature Trees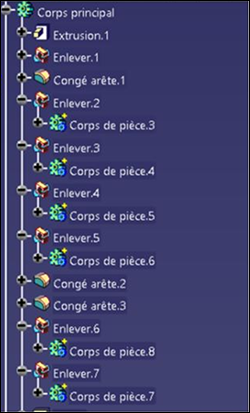 The Feature Tree represents all the steps that have been taken in a CAD design system to create the final Part. For instance:
Selecting a sketch and defining an extrusion.

Selecting an edge and creating a fillet.

Creating a hole.
A tree structure is usually an expressive way to describe features. The hierarchical structure allows a efficient representation of feature dependencies.
An extrusion built on top of a sketch .

A pattern based on a hole .

A hole is defined on top of a hole thread .
With CATIA V5, Creo, NX and SolidWorks, HOOPS Exchange can be used to read the feature tree. It can then be traversed to retrieve all the parameters that have been used to define:
Holes

Patterns

Extrusion

Revolutions

Fillets & chamfers
This information is particularly useful for optimizing downstream processes, including analysis, manufacturing, and metrology.