Read VTFx file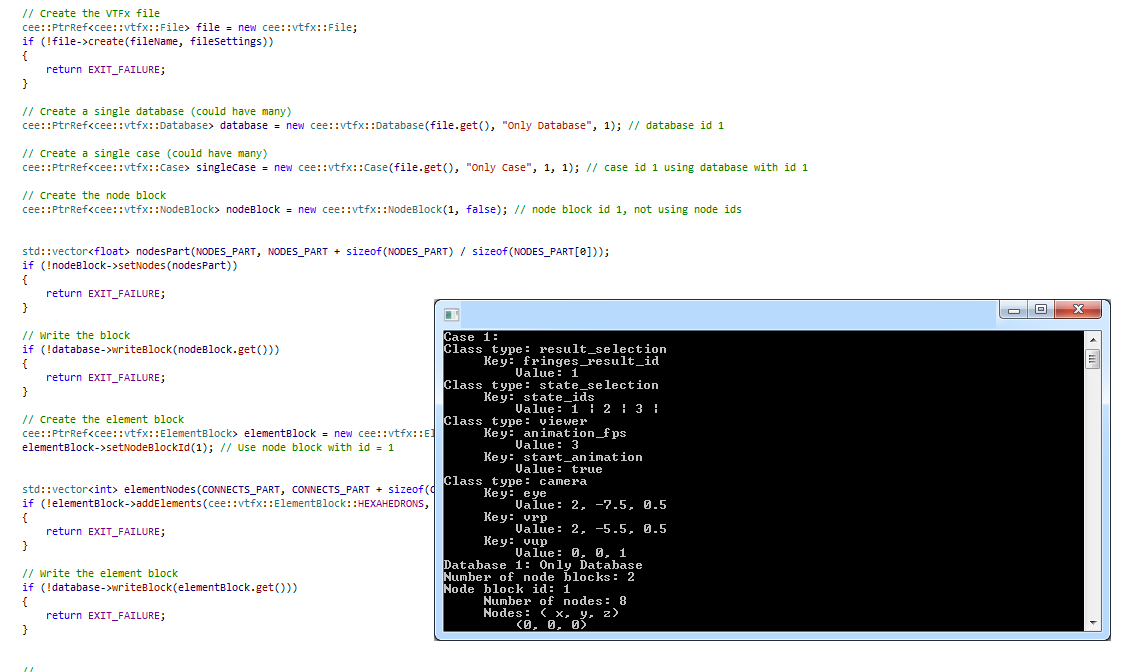 This example reads a VTFx file and prints the content of the file to the console.
It outputs meta data on the file , database, case and all blocks. It also lists data content of data blocks (such as result values, node coordinates and ids). Only the first 100 values of such arrays are printed (if the size exceeds 100 items).
The example might be useful for dumping the file content to a console as help for debugging.
//--------------------------------------------------------------------------------------------------




// Helper to turn variant into string




//--------------------------------------------------------------------------------------------------




cee

::

Str

 

getAsString

(

cee

::

Variant

 

v

)




{




    

switch

 

(

v

.

type

())




    

{




        

case

 

cee

::

Variant

::

INVALID

:

 

return

 

"Invalid"

;




        

case

 

cee

::

Variant

::

INT

:

     

return

 

cee

::

Str

::

number

(

v

.

getInt

());




        

case

 

cee

::

Variant

::

UINT

:

    

return

 

cee

::

Str

::

number

(

v

.

getUInt

());




        

case

 

cee

::

Variant

::

DOUBLE

:

  

return

 

cee

::

Str

::

number

(

v

.

getDouble

());




        

case

 

cee

::

Variant

::

FLOAT

:

   

return

 

cee

::

Str

::

number

(

v

.

getFloat

());




        

case

 

cee

::

Variant

::

BOOL

:

    

return

 

v

.

getBool

()

 

?

 

"true"

 

:

 

"false"

;




        

case

 

cee

::

Variant

::

VEC3D

:

   

return

 

cee

::

Str

::

number

(

v

.

getVec3d

().

x

())

 

+

 

", "

 

+

 

cee

::

Str

::

number

(

v

.

getVec3d

().

y

())

 

+

 

", "

 

+

 

cee

::

Str

::

number

(

v

.

getVec3d

().

z

());




        

case

 

cee

::

Variant

::

COLOR3F

:

 

return

 

cee

::

Str

::

number

(

v

.

getColor3f

().

r

())

 

+

 

", "

 

+

 

cee

::

Str

::

number

(

v

.

getColor3f

().

g

())

 

+

 

", "

 

+

 

cee

::

Str

::

number

(

v

.

getColor3f

().

b

());




        

case

 

cee

::

Variant

::

STRING

:

  

return

 

v

.

getString

();




        

case

 

cee

::

Variant

::

ARRAY

:




        

{




            

cee

::

Str

 

str

;




            

std

::

vector

<

cee

::

Variant

>

 

array

 

=

 

v

.

getArray

();




            

for

 

(

std

::

vector

<

cee

::

Variant

>::

iterator

 

it

 

=

 

array

.

begin

();

 

it

 

!=

 

array

.

end

();

 

it

++

)




            

{




                

str

 

=

 

str

 

+

 

getAsString

(

*

it

)

 

+

 

" | "

;




            

}




            

return

 

str

;




        

}




        

default

:




            

return

 

""

;




    

}




}






//--------------------------------------------------------------------------------------------------




// 




//--------------------------------------------------------------------------------------------------




int

 

main

()




{




    

g_componentInstance

 

=

 

cee

::

CoreComponent

::

initialize

(

HOOPS_LICENSE

);




    

cee

::

vtfx

::

VTFxComponent

::

initialize

(

g_componentInstance

.

get

());






    

cee

::

PtrRef

<

cee

::

LogDestinationConsole

>

 

log

 

=

 

new

 

cee

::

LogDestinationConsole

();




    

cee

::

CoreComponent

::

logManager

()

->

setDestination

(

log

.

get

());




    

cee

::

CoreComponent

::

logManager

()

->

setLevel

(

""

,

 

3

);

               

// Log errors, warnings and info






    

// Create the VTFx file




    

// -------------------------------------------------------------------------




    

cee

::

PtrRef

<

cee

::

vtfx

::

File

>

 

file

 

=

 

new

 

cee

::

vtfx

::

File

;




    

if

 

(

!

file

->

open

(

"../../DemoFiles/SimpleExample.vtfx"

))




    

{




        

return

 

EXIT_FAILURE

;




    

}





    

size_t

 

numCases

 

=

 

file

->

fileCaseCount

();




    

for

 

(

size_t

 

i

 

=

 

0

;

 

i

 

<

 

numCases

;

 

i

++

)




    

{




        

// Case




        

cee

::

vtfx

::

Case

*

 

c

 

=

 

file

->

fileCase

(

i

);




        

std

::

wcout

 

<<

 

"Case "

 

<<

 

c

->

id

()

 

<<

 

": "

;




        

if

 

(

!

c

->

description

().

isEmpty

())

 

std

::

wcout

 

<<

 

c

->

description

().

c_str

();




        

std

::

wcout

 

<<

 

std

::

endl

;





        

// Properties




        

const

 

cee

::

PropertySetCollection

*

 

properties

 

=

 

c

->

properties

();




        

if

 

(

properties

)




        

{




            

for

 

(

size_t

 

j

 

=

 

0

;

 

j

 

<

 

properties

->

count

();

 

j

++

)




            

{




                

const

 

cee

::

PropertySet

*

 

propertySet

 

=

 

properties

->

propertySet

(

j

);




                

std

::

wcout

 

<<

 

"Class type: "

 

<<

 

propertySet

->

classType

().

c_str

()

 

<<

 

std

::

endl

;




                

std

::

vector

<

cee

::

Str

>

 

keys

 

=

 

propertySet

->

allKeys

();




                

std

::

vector

<

cee

::

Variant

>

 

values

 

=

 

propertySet

->

allValues

();




                

for

 

(

size_t

 

k

 

=

 

0

;

 

k

 

<

 

keys

.

size

();

 

k

++

)




                

{




                    

std

::

wcout

 

<<

 

"     Key: "

 

<<

 

keys

.

at

(

k

).

c_str

()

 

<<

 

std

::

endl

;




                    

std

::

wcout

 

<<

 

"         Value: "

 

<<

 

getAsString

(

values

.

at

(

k

)).

c_str

()

 

<<

 

std

::

endl

;




                

}




            

}




        

}





        

// Images




        

size_t

 

numImages

 

=

 

c

->

imageCount

();




        

std

::

wcout

 

<<

 

"Image count: "

 

<<

 

numImages

 

<<

 

std

::

endl

;




        

for

 

(

size_t

 

i

 

=

 

0

;

 

i

 

<

 

numImages

;

 

i

++

)




        

{




            

const

 

cee

::

Image

*

 

image

 

=

 

c

->

image

(

i

);




            

std

::

wcout

 

<<

 

"Image name: "

 

<<

 

c

->

imageName

(

i

).

c_str

()

 

<<

 

" w: "

 

<<

 

image

->

width

()

 

<<

 

" h: "

 

<<

 

image

->

height

();




        

}




    

}





    

size_t

 

numDatabases

 

=

 

file

->

databaseCount

();




    

for

 

(

size_t

 

i

 

=

 

0

;

 

i

 

<

 

numDatabases

;

 

i

++

)




    

{




        

// Database




        

cee

::

vtfx

::

Database

*

 

db

 

=

 

file

->

database

(

i

);




        

std

::

wcout

 

<<

 

"Database "

 

<<

 

db

->

id

()

 

<<

 

": "

;




        

if

 

(

!

db

->

name

().

isEmpty

())

 

std

::

wcout

 

<<

 

db

->

name

().

c_str

();




        

std

::

wcout

 

<<

 

std

::

endl

;





        

// Nodes




        

size_t

 

numNodeBlocks

 

=

 

db

->

blockCount

(

cee

::

vtfx

::

Block

::

NODES

);




        

std

::

wcout

 

<<

 

"Number of node blocks: "

 

<<

 

numNodeBlocks

 

<<

 

std

::

endl

;




        

for

 

(

size_t

 

j

 

=

 

0

;

 

j

 

<

 

numNodeBlocks

;

 

j

++

)




        

{




            

cee

::

PtrRef

<

cee

::

vtfx

::

Block

>

 

block

 

=

 

db

->

blockByIndex

(

cee

::

vtfx

::

Block

::

NODES

,

 

j

);




            

cee

::

vtfx

::

NodeBlock

*

 

nodeBlock

 

=

 

dynamic_cast

<

cee

::

vtfx

::

NodeBlock

*>

(

block

.

get

());





            

std

::

wcout

 

<<

 

"Node block id: "

 

<<

 

nodeBlock

->

blockId

()

 

<<

 

std

::

endl

;




            

std

::

wcout

 

<<

 

"     Number of nodes: "

 

<<

 

nodeBlock

->

nodeCount

()

 

<<

 

std

::

endl

;




            

std

::

wcout

 

<<

 

"     Nodes: ( x, y, z)"

 

<<

 

std

::

endl

;




            

size_t

 

nodeCount

 

=

 

nodeBlock

->

nodeCount

()

 

>

 

100

 

?

 

100

 

:

 

nodeBlock

->

nodeCount

();

     

// Only first 100




            

for

 

(

size_t

 

k

 

=

 

0

;

 

k

 

<

 

nodeCount

;

 

k

++

)




            

{




                

std

::

wcout

 

<<

 

"         ("

 

<<

 

nodeBlock

->

nodes

().

at

(

k

).

x

()

 

<<

 

", "

 

<<

 

nodeBlock

->

nodes

().

at

(

k

).

y

()

 

<<

 

", "

 

<<

 

nodeBlock

->

nodes

().

at

(

k

).

z

()

 

<<

 

")"

;




                

std

::

wcout

 

<<

 

std

::

endl

;




            

}





            

bool

 

usesNodeIds

 

=

 

(

nodeBlock

->

nodeIds

().

size

()

 

>

 

0

);




            

std

::

wcout

 

<<

 

"     Using node ids: "

 

<<

 

(

usesNodeIds

 

?

 

"yes"

 

:

 

"no"

)

 

<<

 

std

::

endl

;




            

if

 

(

usesNodeIds

)




            

{




                

std

::

wcout

 

<<

 

"     Node ids: "

;





                

size_t

 

nodeIdCount

 

=

 

nodeBlock

->

nodeIds

().

size

()

 

>

 

100

 

?

 

100

 

:

 

nodeBlock

->

nodeIds

().

size

();

     

// Only first 100




                

for

 

(

size_t

 

k

 

=

 

0

;

 

k

 

<

 

nodeIdCount

;

 

k

++

)




                

{




                    

std

::

wcout

 

<<

 

"  "

 

<<

 

nodeBlock

->

nodeIds

().

at

(

k

);




                

}




                

std

::

wcout

 

<<

 

std

::

endl

;




            

}




        

}





        

// Elements




        

size_t

 

numElementBlocks

 

=

 

db

->

blockCount

(

cee

::

vtfx

::

Block

::

ELEMENTS

);




        

std

::

wcout

 

<<

 

"Number of element blocks: "

 

<<

 

numElementBlocks

 

<<

 

std

::

endl

;




        

for

 

(

size_t

 

j

 

=

 

0

;

 

j

 

<

 

numElementBlocks

;

 

j

++

)




        

{




            

cee

::

PtrRef

<

cee

::

vtfx

::

Block

>

 

block

 

=

 

db

->

blockByIndex

(

cee

::

vtfx

::

Block

::

ELEMENTS

,

 

j

);




            

cee

::

vtfx

::

ElementBlock

*

 

elementBlock

 

=

 

dynamic_cast

<

cee

::

vtfx

::

ElementBlock

*>

(

block

.

get

());





            

std

::

wcout

 

<<

 

"Element block id: "

 

<<

 

elementBlock

->

blockId

()

 

<<

 

std

::

endl

;




            

std

::

wcout

 

<<

 

"     Node block id: "

 

<<

 

elementBlock

->

nodeBlockId

()

 

<<

 

std

::

endl

;




            

std

::

wcout

 

<<

 

"     Number of elements: "

 

<<

 

elementBlock

->

elementCount

()

 

<<

 

std

::

endl

;




            

std

::

wcout

 

<<

 

"     Number of element nodes: "

 

<<

 

elementBlock

->

elementNodeCount

()

 

<<

 

std

::

endl

;




            

std

::

wcout

 

<<

 

"     Number of element groups: "

 

<<

 

elementBlock

->

elementGroupCount

()

 

<<

 

std

::

endl

;




            

size_t

 

elementGroupCount

 

=

 

elementBlock

->

elementGroupCount

()

 

>

 

100

 

?

 

100

 

:

 

elementBlock

->

elementGroupCount

();

     

// Only first 100




            

for

 

(

size_t

 

k

 

=

 

0

;

 

k

 

<

 

elementGroupCount

;

 

k

++

)




            

{




                

std

::

wcout

 

<<

 

"     Element group "

 

<<

 

k

 

<<

 

":"

 

<<

 

std

::

endl

;




                

std

::

vector

<

int

>

 

elementNodes

;




                

std

::

vector

<

int

>

 

elementIds

;




                

std

::

wcout

 

<<

 

"         Num elements: "

 

<<

 

elementBlock

->

elementGroupElementCount

(

k

)

 

<<

 

std

::

endl

;




                

std

::

wcout

 

<<

 

"         Num element nodes: "

 

<<

 

elementBlock

->

elementGroupElementNodeCount

(

k

)

 

<<

 

std

::

endl

;




                

std

::

wcout

 

<<

 

"         Element type: "

 

<<

 

elementBlock

->

elementGroupType

(

k

)

 

<<

 

std

::

endl

;




                

elementBlock

->

elementGroup

(

k

,

 

&

elementNodes

,

 

&

elementIds

);




                

if

 

(

elementNodes

.

size

()

 

>

 

0

)




                

{




                    

std

::

wcout

 

<<

 

"         Element nodes: "

;




                    

size_t

 

elementNodeCount

 

=

 

elementNodes

.

size

()

 

>

 

100

 

?

 

100

 

:

 

elementNodes

.

size

();

     

// Only first 100




                    

for

 

(

size_t

 

l

 

=

 

0

;

 

l

 

<

 

elementNodeCount

;

 

l

++

)




                    

{




                        

std

::

wcout

 

<<

 

elementNodes

[

l

]

 

<<

 

"  "

;




                    

}




                    

std

::

wcout

 

<<

 

std

::

endl

;




                

}




                

if

 

(

elementIds

.

size

()

 

>

 

0

)




                

{




                    

std

::

wcout

 

<<

 

"         Element ids: "

;




                    

size_t

 

elementIdCount

 

=

 

elementIds

.

size

()

 

>

 

100

 

?

 

100

 

:

 

elementIds

.

size

();

     

// Only first 100




                    

for

 

(

size_t

 

l

 

=

 

0

;

 

l

 

<

 

elementIdCount

;

 

l

++

)




                    

{




                        

std

::

wcout

 

<<

 

elementIds

[

l

]

 

<<

 

"  "

;




                    

}




                    

std

::

wcout

 

<<

 

std

::

endl

;




                

}




            

}




        

}





        

// Results




        

size_t

 

numResultBlocks

 

=

 

db

->

blockCount

(

cee

::

vtfx

::

Block

::

RESULT

);




        

std

::

wcout

 

<<

 

"Number of result blocks: "

 

<<

 

numResultBlocks

 

<<

 

std

::

endl

;




        

for

 

(

size_t

 

j

 

=

 

0

;

 

j

 

<

 

numResultBlocks

;

 

j

++

)




        

{




            

cee

::

PtrRef

<

cee

::

vtfx

::

Block

>

 

block

 

=

 

db

->

blockByIndex

(

cee

::

vtfx

::

Block

::

RESULT

,

 

j

);




            

cee

::

vtfx

::

ResultBlock

*

 

resultBlock

 

=

 

dynamic_cast

<

cee

::

vtfx

::

ResultBlock

*>

(

block

.

get

());





            

std

::

wcout

 

<<

 

"Result block id: "

 

<<

 

resultBlock

->

blockId

()

 

<<

 

std

::

endl

;




            

std

::

wcout

 

<<

 

"     Result id: "

 

<<

 

resultBlock

->

resultId

()

 

<<

 

std

::

endl

;




            

std

::

wcout

 

<<

 

"     Result name: "

 

<<

 

resultBlock

->

name

().

c_str

()

 

<<

 

std

::

endl

;




            

std

::

wcout

 

<<

 

"     Result type: "

 

<<

 

resultBlock

->

resultType

()

 

<<

 

std

::

endl

;




            

std

::

wcout

 

<<

 

"     Result mapping: "

 

<<

 

resultBlock

->

resultMapping

()

 

<<

 

std

::

endl

;




            

if

 

(

resultBlock

->

resultType

()

 

==

 

cee

::

vtfx

::

ResultBlock

::

DISPLACEMENT

)




            

{




                

std

::

wcout

 

<<

 

"     Displacements are: "

 

<<

 

(

resultBlock

->

relativeDisplacementResults

()

 

?

 

"relative"

 

:

 

"absolute"

)

 

<<

 

std

::

endl

;




            

}





            

std

::

wcout

 

<<

 

"     Number of states: "

 

<<

 

resultBlock

->

stateCount

()

 

<<

 

std

::

endl

;




            

for

 

(

size_t

 

k

 

=

 

0

;

 

k

 

<

 

resultBlock

->

stateCount

();

 

k

++

)




            

{




                

std

::

wcout

 

<<

 

"     State id: "

 

<<

 

resultBlock

->

stateId

(

k

)

 

<<

 

std

::

endl

;




                

std

::

vector

<

int

>

 

resultValuesBlocks

 

=

 

resultBlock

->

resultValuesBlocks

(

k

);




                

std

::

wcout

 

<<

 

"     Number of result values blocks: "

 

<<

 

resultValuesBlocks

.

size

()

 

<<

 

std

::

endl

;




                

std

::

wcout

 

<<

 

"         Result values block ids: "

;




                

for

 

(

std

::

vector

<

int

>::

iterator

 

it

 

=

 

resultValuesBlocks

.

begin

();

 

it

 

!=

 

resultValuesBlocks

.

end

();

 

++

it

)




                

{




                    

std

::

wcout

 

<<

 

*

it

 

<<

 

"  "

;




                

}




                

std

::

wcout

 

<<

 

std

::

endl

;




            

}




        

}





        

// Result values




        

size_t

 

numResultValuesBlocks

 

=

 

db

->

blockCount

(

cee

::

vtfx

::

Block

::

RESULTVALUES

);




        

std

::

wcout

 

<<

 

"Number of result values blocks: "

 

<<

 

numResultValuesBlocks

 

<<

 

std

::

endl

;




        

for

 

(

size_t

 

j

 

=

 

0

;

 

j

 

<

 

numResultValuesBlocks

;

 

j

++

)




        

{




            

cee

::

PtrRef

<

cee

::

vtfx

::

Block

>

 

block

 

=

 

db

->

blockByIndex

(

cee

::

vtfx

::

Block

::

RESULTVALUES

,

 

j

);




            

cee

::

vtfx

::

ResultValuesBlock

*

 

resultValuesBlock

 

=

 

dynamic_cast

<

cee

::

vtfx

::

ResultValuesBlock

*>

(

block

.

get

());





            

std

::

wcout

 

<<

 

"Result values block id: "

 

<<

 

resultValuesBlock

->

blockId

()

 

<<

 

std

::

endl

;




            

std

::

wcout

 

<<

 

"     Mapped to block id: "

 

<<

 

resultValuesBlock

->

mapToBlockId

()

 

<<

 

std

::

endl

;




            

std

::

wcout

 

<<

 

"     Mapped using ids: "

 

<<

 

(

resultValuesBlock

->

hasMapToItemIds

()

 

?

 

"yes"

 

:

 

"no"

)

 

<<

 

std

::

endl

;




            

if

 

(

resultValuesBlock

->

hasMapToItemIds

())




            

{




                

std

::

vector

<

int

>

 

mapToItemIds

 

=

 

resultValuesBlock

->

mapToItemIds

();




                

std

::

wcout

 

<<

 

"         Mapped ids: "

;




                

for

 

(

std

::

vector

<

int

>::

iterator

 

it

 

=

 

mapToItemIds

.

begin

();

 

it

 

!=

 

mapToItemIds

.

end

();

 

++

it

)




                

{




                    

std

::

wcout

 

<<

 

*

it

 

<<

 

"  "

;




                

}




                

std

::

wcout

 

<<

 

std

::

endl

;




            

}




            

std

::

wcout

 

<<

 

"     Dimension: "

 

<<

 

resultValuesBlock

->

dimension

()

 

<<

 

std

::

endl

;





            

std

::

vector

<

float

>

 

resultValues

 

=

 

resultValuesBlock

->

resultValues

();




            

std

::

wcout

 

<<

 

"         Result values: "

;




            

size_t

 

resultValueCount

 

=

 

resultValues

.

size

()

 

>

 

100

 

?

 

100

 

:

 

resultValues

.

size

();

     

// Only first 100




            

for

 

(

size_t

 

l

 

=

 

0

;

 

l

 

<

 

resultValueCount

;

 

l

++

)




            

{




                

std

::

wcout

 

<<

 

resultValues

[

l

]

 

<<

 

"  "

;




            

}




            

std

::

wcout

 

<<

 

std

::

endl

;




        

}





        

// Geometry




        

size_t

 

numGeometryBlocks

 

=

 

db

->

blockCount

(

cee

::

vtfx

::

Block

::

GEOMETRY

);




        

std

::

wcout

 

<<

 

"Number of geometry blocks: "

 

<<

 

numGeometryBlocks

 

<<

 

std

::

endl

;




        

{




            

cee

::

PtrRef

<

cee

::

vtfx

::

Block

>

 

block

 

=

 

db

->

blockByIndex

(

cee

::

vtfx

::

Block

::

GEOMETRY

,

 

0

);




            

cee

::

vtfx

::

GeometryBlock

*

 

geometryBlock

 

=

 

dynamic_cast

<

cee

::

vtfx

::

GeometryBlock

*>

(

block

.

get

());





            

std

::

wcout

 

<<

 

"Geometry block id: "

 

<<

 

geometryBlock

->

blockId

()

 

<<

 

std

::

endl

;




            

std

::

wcout

 

<<

 

"     Geometries per state: "

 

<<

 

geometryBlock

->

geometryCountPerState

()

 

<<

 

std

::

endl

;





            

for

 

(

size_t

 

stateIndex

 

=

 

0

;

 

stateIndex

 

<

 

geometryBlock

->

stateCount

();

 

stateIndex

++

)




            

{




                

for

 

(

size_t

 

geoIndex

 

=

 

0

;

 

geoIndex

 

<

 

geometryBlock

->

geometryCountPerState

();

 

geoIndex

++

)




                

{




                    

std

::

wcout

 

<<

 

"     Number of parts: "

 

<<

 

geometryBlock

->

partCount

(

geoIndex

,

 

stateIndex

)

 

<<

 

std

::

endl

;




                    

std

::

vector

<

int

>

 

blockIds

 

=

 

geometryBlock

->

elementBlockIds

(

geoIndex

,

 

stateIndex

);




                    

std

::

wcout

 

<<

 

"     Number of blocks: "

 

<<

 

blockIds

.

size

()

 

<<

 

std

::

endl

;




                    

std

::

wcout

 

<<

 

"         Element block ids: "

;




                    

for

 

(

std

::

vector

<

int

>::

iterator

 

it

 

=

 

blockIds

.

begin

();

 

it

 

!=

 

blockIds

.

end

();

 

++

it

)




                    

{




                        

std

::

wcout

 

<<

 

*

it

 

<<

 

"  "

;




                    

}




                    

std

::

wcout

 

<<

 

std

::

endl

;




                

}




            

}




        

}






        

// Geometry info




        

size_t

 

numGeometryInfoBlocks

 

=

 

db

->

blockCount

(

cee

::

vtfx

::

Block

::

GEOMETRYINFO

);




        

std

::

wcout

 

<<

 

"Number of geometry info blocks: "

 

<<

 

numGeometryInfoBlocks

 

<<

 

std

::

endl

;




        

if

 

(

numGeometryInfoBlocks

 

>

 

0

)




        

{




            

cee

::

PtrRef

<

cee

::

vtfx

::

Block

>

 

block

 

=

 

db

->

blockByIndex

(

cee

::

vtfx

::

Block

::

GEOMETRYINFO

,

 

0

);




            

cee

::

vtfx

::

GeometryInfoBlock

*

 

geometryInfoBlock

 

=

 

dynamic_cast

<

cee

::

vtfx

::

GeometryInfoBlock

*>

(

block

.

get

());





            

std

::

wcout

 

<<

 

"Geometry info block id: "

 

<<

 

geometryInfoBlock

->

blockId

()

 

<<

 

std

::

endl

;




            

std

::

wcout

 

<<

 

"     Geometries per state: "

 

<<

 

geometryInfoBlock

->

geometryCountPerState

()

 

<<

 

std

::

endl

;





            

for

 

(

size_t

 

geoIndex

 

=

 

0

;

 

geoIndex

 

<

 

geometryInfoBlock

->

geometryCountPerState

();

 

geoIndex

++

)




            

{




                

std

::

wcout

 

<<

 

"     Number of parts: "

 

<<

 

geometryInfoBlock

->

partCount

(

geoIndex

)

 

<<

 

std

::

endl

;




                

for

 

(

size_t

 

k

 

=

 

0

;

 

k

 

<

 

geometryInfoBlock

->

partCount

(

geoIndex

);

 

k

++

)




                

{




                    

std

::

wcout

 

<<

 

"     Part id: "

 

<<

 

geometryInfoBlock

->

partId

(

geoIndex

,

 

k

)

 

<<

 

std

::

endl

;




                    

std

::

wcout

 

<<

 

"     Part name: "

 

<<

 

geometryInfoBlock

->

partName

(

geoIndex

,

 

k

).

c_str

()

 

<<

 

std

::

endl

;




                

}




            

}




        

}





        

// State infos




        

size_t

 

numStateInfoBlocks

 

=

 

db

->

blockCount

(

cee

::

vtfx

::

Block

::

STATEINFO

);




        

std

::

wcout

 

<<

 

"Number of state info blocks: "

 

<<

 

numStateInfoBlocks

 

<<

 

std

::

endl

;




        

for

 

(

size_t

 

j

 

=

 

0

;

 

j

 

<

 

numStateInfoBlocks

;

 

j

++

)




        

{




            

cee

::

PtrRef

<

cee

::

vtfx

::

Block

>

 

block

 

=

 

db

->

blockByIndex

(

cee

::

vtfx

::

Block

::

STATEINFO

,

 

j

);




            

cee

::

vtfx

::

StateInfoBlock

*

 

stateInfoBlock

 

=

 

dynamic_cast

<

cee

::

vtfx

::

StateInfoBlock

*>

(

block

.

get

());





            

std

::

wcout

 

<<

 

"State info block id: "

 

<<

 

stateInfoBlock

->

blockId

()

 

<<

 

std

::

endl

;




            

std

::

wcout

 

<<

 

"     Number of states: "

 

<<

 

stateInfoBlock

->

stateCount

()

 

<<

 

std

::

endl

;




            

for

 

(

size_t

 

k

 

=

 

0

;

 

k

 

<

 

stateInfoBlock

->

stateCount

();

 

k

++

)




            

{




                

std

::

wcout

 

<<

 

"     State id: "

 

<<

 

stateInfoBlock

->

stateId

(

k

)

 

<<

 

std

::

endl

;




                

std

::

wcout

 

<<

 

"         State name: "

 

<<

 

stateInfoBlock

->

stateName

(

k

).

c_str

()

 

<<

 

std

::

endl

;




                

std

::

wcout

 

<<

 

"         State reference value: "

 

<<

 

stateInfoBlock

->

stateReferenceValue

(

k

)

 

<<

 

std

::

endl

;




                

std

::

wcout

 

<<

 

"         State reference value type: "

 

<<

 

stateInfoBlock

->

stateReferenceValueType

(

k

)

 

<<

 

std

::

endl

;




                

std

::

wcout

 

<<

 

"         State name: "

 

<<

 

stateInfoBlock

->

stateName

(

k

).

c_str

()

 

<<

 

std

::

endl

;




            

}




        

}





        

// Transformation results




        

size_t

 

numTransResultsBlocks

 

=

 

db

->

blockCount

(

cee

::

vtfx

::

Block

::

TRANSFORMATIONRESULT

);




        

std

::

wcout

 

<<

 

"Number of transformation result blocks: "

 

<<

 

numTransResultsBlocks

 

<<

 

std

::

endl

;




        

for

 

(

size_t

 

j

 

=

 

0

;

 

j

 

<

 

numTransResultsBlocks

;

 

j

++

)




        

{




            

cee

::

PtrRef

<

cee

::

vtfx

::

Block

>

 

block

 

=

 

db

->

blockByIndex

(

cee

::

vtfx

::

Block

::

TRANSFORMATIONRESULT

,

 

j

);




            

cee

::

vtfx

::

TransformationResultBlock

*

 

transResultBlock

 

=

 

dynamic_cast

<

cee

::

vtfx

::

TransformationResultBlock

*>

(

block

.

get

());





            

std

::

wcout

 

<<

 

"Transformation result block id: "

 

<<

 

transResultBlock

->

blockId

()

 

<<

 

std

::

endl

;




            

std

::

wcout

 

<<

 

"     Result id: "

 

<<

 

transResultBlock

->

resultId

()

 

<<

 

std

::

endl

;




            

std

::

wcout

 

<<

 

"     Result name: "

 

<<

 

transResultBlock

->

name

().

c_str

()

 

<<

 

std

::

endl

;





            

std

::

wcout

 

<<

 

"     Number of states: "

 

<<

 

transResultBlock

->

stateCount

()

 

<<

 

std

::

endl

;




            

for

 

(

size_t

 

k

 

=

 

0

;

 

k

 

<

 

transResultBlock

->

stateCount

();

 

k

++

)




            

{




                

std

::

wcout

 

<<

 

"     State id: "

 

<<

 

transResultBlock

->

stateId

(

k

)

 

<<

 

std

::

endl

;




                

std

::

wcout

 

<<

 

"     Number of result values blocks: "

 

<<

 

transResultBlock

->

transformationResultValuesBlockCount

(

k

)

 

<<

 

std

::

endl

;




                

std

::

vector

<

int

>

 

resultValuesBlocks

 

=

 

transResultBlock

->

transformationResultValuesBlocks

(

k

);




                

std

::

wcout

 

<<

 

"         Result values block ids: "

;




                

for

 

(

std

::

vector

<

int

>::

iterator

 

it

 

=

 

resultValuesBlocks

.

begin

();

 

it

 

!=

 

resultValuesBlocks

.

end

();

 

++

it

)




                

{




                    

std

::

wcout

 

<<

 

*

it

 

<<

 

"  "

;




                

}




                

std

::

wcout

 

<<

 

std

::

endl

;




            

}




        

}





        

// Transformation result values




        

size_t

 

numTransResultValuesBlocks

 

=

 

db

->

blockCount

(

cee

::

vtfx

::

Block

::

TRANSFORMATIONRESULTVALUES

);




        

std

::

wcout

 

<<

 

"Number of transformation result values blocks: "

 

<<

 

numTransResultValuesBlocks

 

<<

 

std

::

endl

;




        

for

 

(

size_t

 

j

 

=

 

0

;

 

j

 

<

 

numTransResultValuesBlocks

;

 

j

++

)




        

{




            

cee

::

PtrRef

<

cee

::

vtfx

::

Block

>

 

block

 

=

 

db

->

blockByIndex

(

cee

::

vtfx

::

Block

::

TRANSFORMATIONRESULTVALUES

,

 

j

);




            

cee

::

vtfx

::

TransformationResultValuesBlock

*

 

resultValuesBlock

 

=

 

dynamic_cast

<

cee

::

vtfx

::

TransformationResultValuesBlock

*>

(

block

.

get

());





            

std

::

wcout

 

<<

 

"Result values block id: "

 

<<

 

resultValuesBlock

->

blockId

()

 

<<

 

std

::

endl

;




            

cee

::

Mat4d

 

matrix

 

=

 

resultValuesBlock

->

matrix

();




            

std

::

wcout

 

<<

 

"     Matrix values: "

;




            

for

 

(

int

 

row

 

=

 

0

;

 

row

 

<

 

4

;

 

++

row

)




            

{




                

for

 

(

int

 

col

 

=

 

0

;

 

col

 

<

 

4

;

 

col

++

)




                

{




                    

std

::

wcout

 

<<

 

matrix

.

rowCol

(

row

,

 

col

)

 

<<

 

"  "

;




                

}




            

}




            

std

::

wcout

 

<<

 

std

::

endl

;




        

}




    

}





    

// User text files




    

size_t

 

numFiles

 

=

 

file

->

userTextFileCount

();




    

for

 

(

size_t

 

i

 

=

 

0

;

 

i

 

<

 

numFiles

;

 

i

++

)




    

{




        

std

::

wcout

 

<<

 

"     File name: "

 

<<

 

file

->

userTextFileName

(

i

).

c_str

()

 

<<

 

std

::

endl

;




        

std

::

wcout

 

<<

 

"     File content: "

 

<<

 

file

->

userTextFileContent

(

i

).

c_str

()

 

<<

 

std

::

endl

;




    

}




    

std

::

wcout

 

<<

 

std

::

endl

;





    

if

 

(

!

file

->

close

())




    

{




        

return

 

EXIT_FAILURE

;




    

}




    




    

std

::

cout

 

<<

 

std

::

endl

 

<<

 

"Press enter to exit..."

 

<<

 

std

::

endl

;




    

std

::

cin

.

ignore

();





    

return

 

EXIT_SUCCESS

;




}