Component Hierarchy
HOOPS Visualize uses a generic component hierarchy to represent third-party CAD models which feature topological entities. The component hierarchy is a way to organize the scene graph uniformly across disparate file formats. It also provides developers the ability to extend the capabilities of our importers, as well as to create entirely new importers in a way that is compatible with the Visualize scene graph. The HOOPS Exchange and Parasolid importers produce HPS::CADModel objects that abstract the structure of the model into a HPS::Component hierarchy.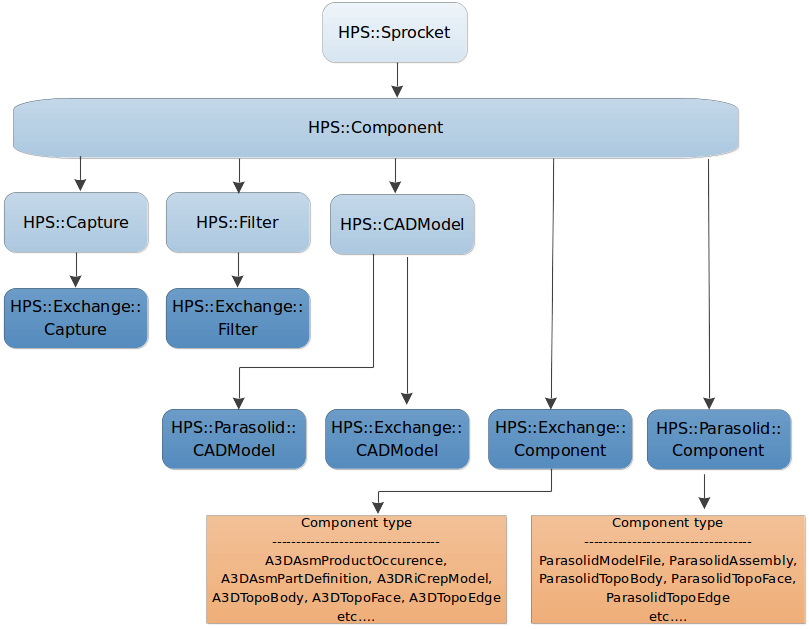 The HPS::Component object hierarchy
The major parts of the hierarchy are described below:
| Object name | Description |
| --- | --- |
| HPS::CADModel | The root entity of the 3D model. Files loaded with the HOOPS Exchange importer will have a root entity of type HPS::Exchange::CADModel. The Parasolid importer uses HPS::Parasolid::CADModel. |
| HPS::Capture | A specific view of an object, including the camera, materials, transforms, etc. |
| HPS::Filter | A collection of visibility settings for a HPS::CADModel |
| HPS::*::Component | A complex object which can represent a variety of model components, including non-geometric components |
In general, components refer to Visualize objects, whereas entities refer to the underlying object of the model's native platform. However, there is not a perfect one-to-one mapping between components and entities. For example, some modeling APIs represent faces and edges as two separate entities, but Visualize groups the two into a single shell. For a list of all supported entities and their corresponding components, see the reference manual entry for HPS::Component.